FIFINE AMPLIGAME A8 USB Gaming & Rugged Wired K6 microphones launched in India
Posted by Fonearena:
FIFINE has released two new professional-level microphones for streamers, audio enthusiasts, and many other occasions: the AMPLIGAME A8 with RGB lights, and the K6 with a upgraded capsule cardioid dynamic microphone. This follows the introduction of the K040 Wireless Microphone System last month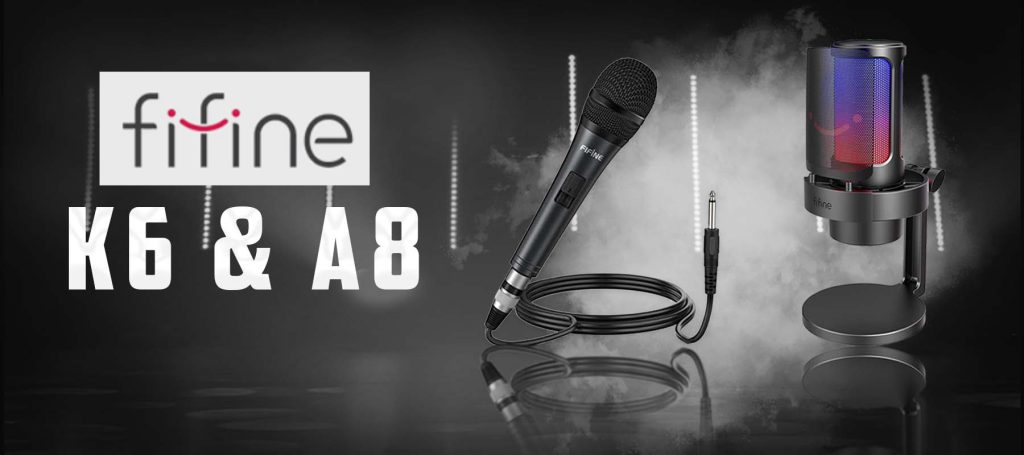 .
FIFINE Ampligame A8 and K6
The FIFINE Ampligame A8 comes with superior gain and light controls, a built-in amp and 3.5mm headphone jack which enables you to monitor your voice without a separate amplifier. The FIFINE K6, which is ideal for broadcast and solo-singing vocals, drums, and amplified guitars, can be plugged directly into an amplifier, speaker, mixer, or karaoke machine with a 1/4″ (6.35mm) mic-in jack.
FIFINE AMPLIGAME A8 Features:
Controllable RGB Lighting – Three lighting modes with up to 9 different colors to choose from. The RGB control button offers an easy way to select the mode or colors to make a huge difference, especially in game scenes.
Intuitive Mic Control – A built-in 3.5mm headphone jack allows you to monitor your voice and adjust the mic's volume with the manual gain knob, or instantly mute the mic with the one-tap Mute button.
Crystal-Clear Sound Quality – A condenser capsule delivers smooth and crystal-clear vocals with superior sensitivity. The cardioid pickup pattern reduces ambient disturbances from your PC tower.
Added Noise Reduction – An external black metal pop filter softens plosives and the compact shock mount dampens vibrations. These accessories help clean unpleasant noises from your podcasting.
Simple to Use – Completely plug-and-play, it is compatible with a PC, MacBook, or a PS4/5, and the base stand is sturdy. The thumbscrew can be adjusted to get a better recording position.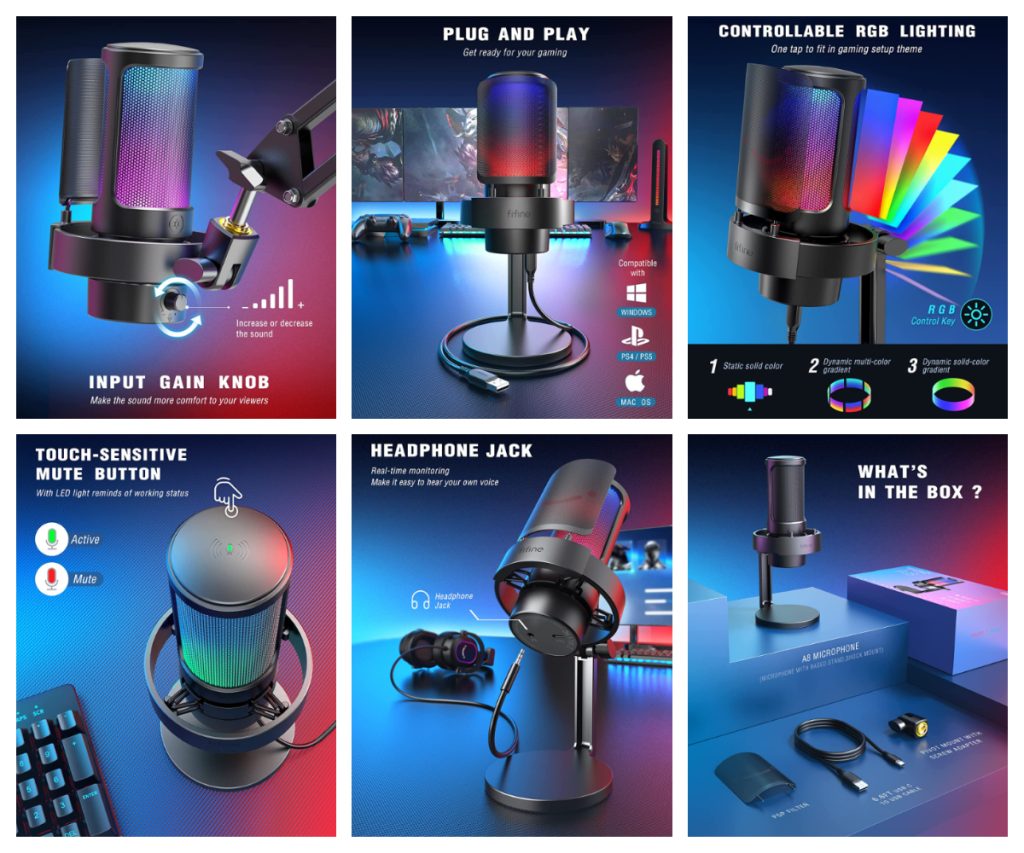 Quick specifications: FIFINE Ampligame A8 USB Gaming Microphone
Polar Pattern: Cardioid
Output Connection: USB Type-C (mic end) to type-A 2.0 (computer end)
Power Consumption: USB 5V power
Frequency Response: 50Hz-20kHz
Sensitivity: -40±3dB
Multiple RGB Lighting with control Key
Dynamic Multi-color Gradient
Clear chats, Mute button, Gain Knob
Headphone Jack
Compatible with Windows, PS4/PS5 and Mac OS
Shipping Weight: 1.0 kg
FIFINE K6 Features:
Dynamic Cardioid Karaoke Microphone – The K6 is a wired microphone for karaoke with a cardioid pickup pattern for greater gain and noise cancellation. Ideal for presentations, weddings, conferences, churches, interviews, DJs, and solo performances.
Flat, Wide-Range Frequency – The microphone has a smooth and solid frequency range between 50Hz and 18KHz and requires no power. Suitable for spoken words and various instruments such as acoustic guitars.
Optimal Speech Intelligibility – The FIFINE K6 mic delivers low distortion for clear sound output with precise reproduction of speech and vocals. Ideal for singing, karaoke, home parties, and performances in indoor and outdoor environments.
XLR to 1/4" Cable Included – The wired microphone can be directly plugged into an audio mixer, amplifier, amplispeaker, or karaoke machine. It has a 14.8ft-long cable for brilliant sound transmission with no signal loss.
Rugged & Reliable Metal Construction – The K6 is robust and easy to operate. It features an upgraded mic capsule with a built-in pop filter and an external on/off switch for quick audio control.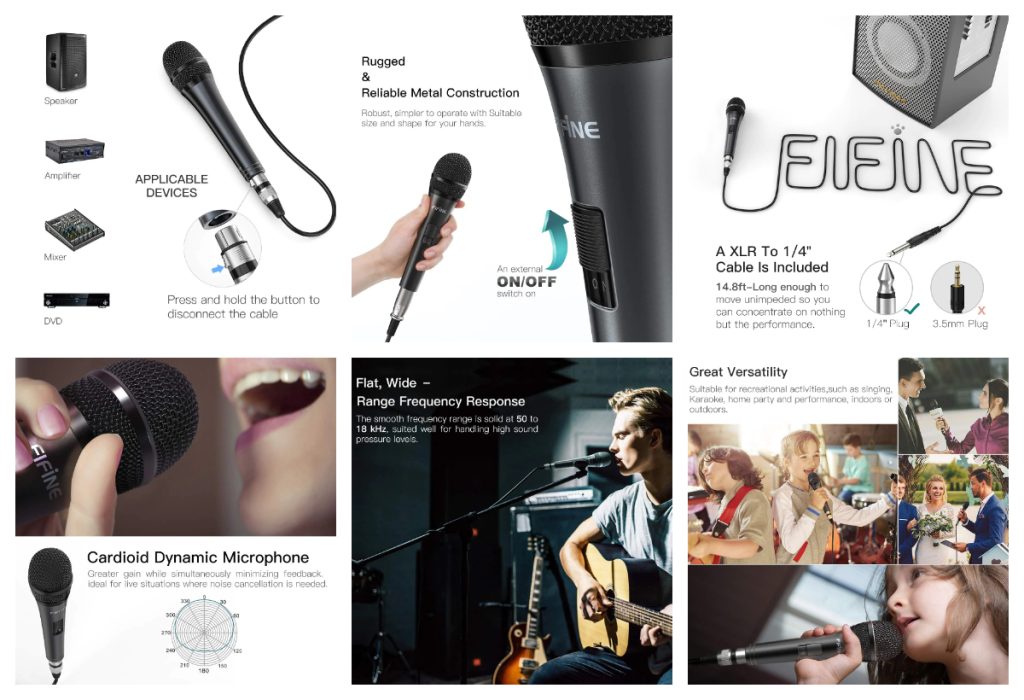 Quick specifications: FIFINE K6 Wired Handheld Microphone
Rugged and Metal construction
External On/Off Switch
Polar Pattern: Cardioid Dynamic Microphone
Frequency Response: 50-18kHz
Sensitivity: -50.60±1dB (at 1kHz)
Compatible devices: Speaker, Amplifier, Mixer, DVD
A XLR to 1/4″ Cable is included (14.8ft long)
Shipping Weight: 0.6 kg
Pricing and availability
The FIFINE AMPLIGAME A8 USB RGB Gaming Microphone and the K6 Wired Microphone can be purchased for Rs. 4,990 and Rs. 1,990, respectively. Both these come with a 1-year warranty and can be purchased from: fifinemicrophone.in; originshop.co.in and Amazon.in